Did my first load of laundry in the new place Saturday night (don't *I* live an exciting life ;) Sooooooo nice to be able to do laundry that easily--no wrestling a huge bag down/up flights of stairs and across streets. No $15-20 a pop for every load, or else cram yourself into a tiny overheated room to watch your laundry while the Spanish TV blares. Nope, just grab your bin, step into the elevator, throw in your loads for pittance and walk away. SO EASY AND AWESOME.
One thing I am LOVING about the building and the neighborhood is how racially mixed it is. I have seen fellow residents of every color and race which is great, mainly in my building but also on the streets as well. I don't know if that's due to the building or if SpaHa is close enough to Midtown to be desirable. I don't think it's entirely due to the building--the other day I was walking to it behind a white couple who were looking into the doors and commenting on how nice it was (they eventually passed the building so it was clear they didn't live there). One thing I HATED about my old address was the racial dichotomy--I detested always being the only white person in our bulding/on our street (other than Anya, of course). I don't want to live in a ghetto--either black OR white. I want to live in a neighborhood that effing represents MANHATTAN. I want to have access to soul food, tacos and quesadillas (lot more Mexicans in SpaHa than Inwood which is primarily Dominican) AND awesome cocktails.
Tonight or tomorrow, I hope to finally use the gym. I am almost completely unpacked--I just have to put up a few more shelves (bookshelves plus I have to buy/hang some DVD shelves) and one more project--gotta replace my old computer hutch. I was considering putting up some glass shelves, attaching them to the wall, but I have to talk to someone at Home Depot or someplace like that. I'm a little worried glass shelves might be too heavy. But I don't really want to crowd what I think of as the "office"--there's a lot of stuff on the walls already there, I'm trying to keep the place as spare and cool as possible.
Oh, and I'm buying the painting of one of my soccer teammates. Isn't it gorgeous?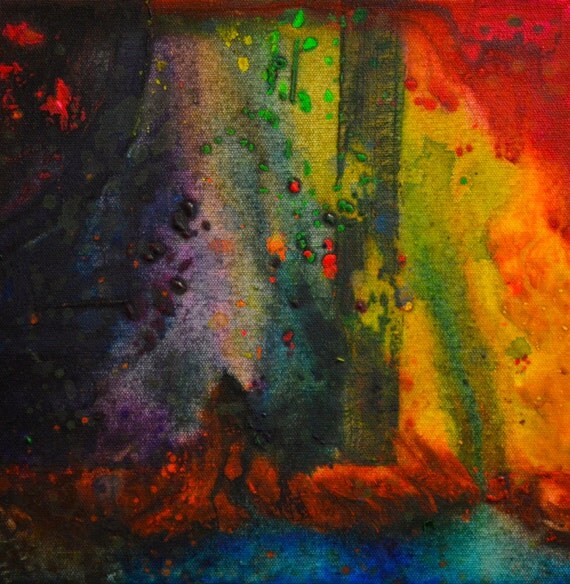 It's going to go in the "foyer." Very Manhattan!